20 November 2023
Did you know that 'portico' is the Italian for 'porch'? Understandable of course, as both describe a covered space above a front door or entrance. But when you see the newly restored portico at Strokestown Park House, you might suggest that that's where the similarities end.
A 'porch' would be an altogether unworthy description of the display of architectural heritage that is the grand entranceway at Strokestown Park House. Here we look at how it came to be and the sustainable conservation and restoration that make it a shining example of the work of the Irish Heritage Trust in safeguarding Ireland's special heritage places.
Porticos in Heritage Building Conservation
Preserving heritage buildings is a complex task that requires attention to detail, historical accuracy, and a deep appreciation for architectural craftsmanship. The portico at Strokestown Park House required special consideration in the conservation process for several reasons.
Structural Integrity: Porticos are exposed to harsh environmental conditions, making them susceptible to damage. Over time, this portico had suffered from various forms of deterioration, including weathering, decay, and structural instability.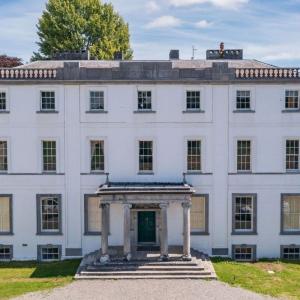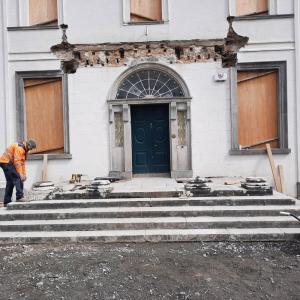 Authenticity: The cornerstone of heritage conservation, it was crucial to adhere to historical materials in restoring the portico. Skilled craftsmen and conservators were tasked with conserving and recreating any missing elements to preserve the original character of the structure.
All the original materials were taken apart piece by piece and later reinstated. The balustrades and capping stones were taken down in more recent years for health and safety reasons and placed in storage in anticipation of this work.
Cultural Identity: Porticos are not just architectural features but symbols of cultural identity and heritage. Conserving these elements helps maintain a connection to our past and provides future generations with a tangible link to the history of this great house.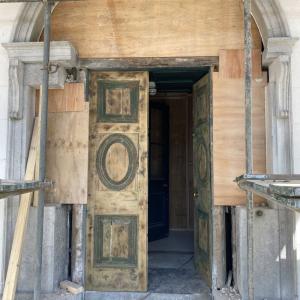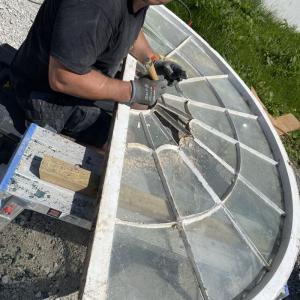 Historical Context
The origins of the Strokestown Park estate date back to medieval times to a castle destroyed in the mid-16th century. It took on its present form in the early 18th century when it was rebuilt by Maurice Mahon (1738-1819), 1st Baron Hartland.
Generations of the Mahon family had made changes to the building over time but it was Thomas Mahon, 2nd Baron Hartland (1766-1835) who was responsible for the 1830's renovation. This included the addition of the portico. 
He inherited the estate from his father, Maurice Mahon, upon his death in 1819. Though debt ridden, he undertook several major renovations which included changes to the façade, a new tunnel linking the servants' quarters to the stable courtyard and the Gentleman's Study, now a Victorian Darkroom.
Video includes footage of the project underway, insights from the Strokestown Park team, and the completed portico.
Architectural Significance
Richard Cassels (1690–1751), considered one of the greatest architects of the time, designed the original Palladian house.  It featured a classic Georgian Palladian design characterised by its symmetrical layout, grand entrance hall, Venetian window, and curved staircase.
The 1830's renovation was designed by architect John Lynn of Sligo. It included the addition of another storey and the portico, built on the foundations of the original curved staircase.
Among the many architectural splendours that contribute to this house, the entrance portico holds a special place. The original limestone Ionic portico consists of an elaborate porch roof supported by four columns. It featured decorative balustrades and capping stones.  As a focal point in the house with both practical and aesthetic functions, it provided a sheltered space for arriving visitors while creating a sense of scale and proportion.
Challenges and Considerations
Funding: Restoration and conservation efforts are costly, so work is always contingent on securing adequate funding. The Department of Housing, Local Government, & Heritage was the funding body for this project.
Skilled Craftsmanship: Skilled artisans with the expertise to replicate intricate architectural details are essential to the work. These artisans included stone masons, metal workers, glazers, lead roofers, carpenters, and painters. Refurbishment of many of the existing balusters was carried out off site by architectural metalworkers experienced in cast iron restoration. A few replica balustrades were required and the original conserved balustrades were used for patternmaking and casting.
Professional Design: Conservation engineers, a conservation architect and an archaeologist oversaw the design process.
Regulations and Permissions: Navigating the complexities of heritage preservation laws and obtaining necessary permits can be time-consuming . In this case, close communication with Roscommon County Council ensured that the works proceeded without undue delays.
Sustainability: As sustainability begins with preservation, conservation projects such as this are wholly sustainable. They use and restore existing materials and the original fabric of the building.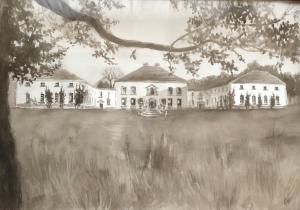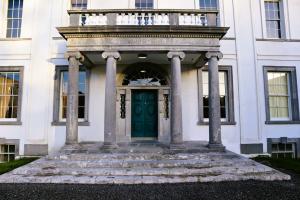 Draw Your Own Conclusion
Many who viewed the house during the recent works felt the original design without the portico was more elegant and proportional. Others believe the portico gives a focal point and sense of scale to the property. Any visit to Strokestown Park House opens the door to its architectural heritage and everyone can form their own opinion.
The story of this great house includes challenging chapters from its part in the Great Irish Famine. These stories can be explored onsite at the National Famine Museum – an essential stop for anyone interested in Ireland's cultural and historical heritage.
As with all Irish Heritage Trust conservation projects, this is an invaluable investment in preserving our past. It helps ensure the stories held through this grand entrance will endure for centuries.
By visiting, giving or becoming a member, you are helping to fund this essential work to bring heritage to life.
Contractor – Kelbuild
Conservation Engineers – Punch Consulting Engineers
Completed – 2023
Funding – Department of Housing, Local Government & Heritage
The Westward Group own Strokestown Park House and have been resposible for it's conservation since 1979 and assisted by the Irish Heritage Trust since 2015.
Explore Our Latest News
There is no excerpt because this is a protected post.