12 April 2023
In early April, Irish Heritage Trust Volunteers gathered at the beautiful Johnstown Castle Estate, Museum & Gardens, Wexford where Malcolm Noonan T.D., Minister of State for Heritage and Electoral Reform launched the publication of the Trust's new Complete Guide to Volunteering.
Since the Irish Heritage Trust was established in 2006, it has successfully developed its volunteering programme to bring some of Ireland's most precious historic properties and their stories to life for the benefit of all. Irish Heritage Trust Volunteers, with the support of staff and other conservation specialists, have enabled the Irish Heritage Trust to carry out countless important roles including gardening, tour guiding, stewarding, customer service and restoration projects across all three Trust Properties. These volunteers play a vital role in the Trust's ability to welcome thousands of domestic and international visitors each year and to share the stories of the properties and the people who once lived in them.
Over the past three years, the Irish Heritage Trust, a non-profit organisation, has more than doubled its number of volunteers who now number 300 at its properties: Fota House, Arboretum & Gardens, Co. Cork; Johnstown Castle Estate, Museum & Gardens, Co. Wexford; Strokestown Park House, Gardens & National Famine Museum, Co. Roscommon. Published to enhance the Irish Heritage Trust's already award-winning volunteering programme, the Guide reaffirms the Trust's commitment to volunteers as it continues to recruit new volunteers at these historic properties where a wide range of regular and once-off volunteer roles are available.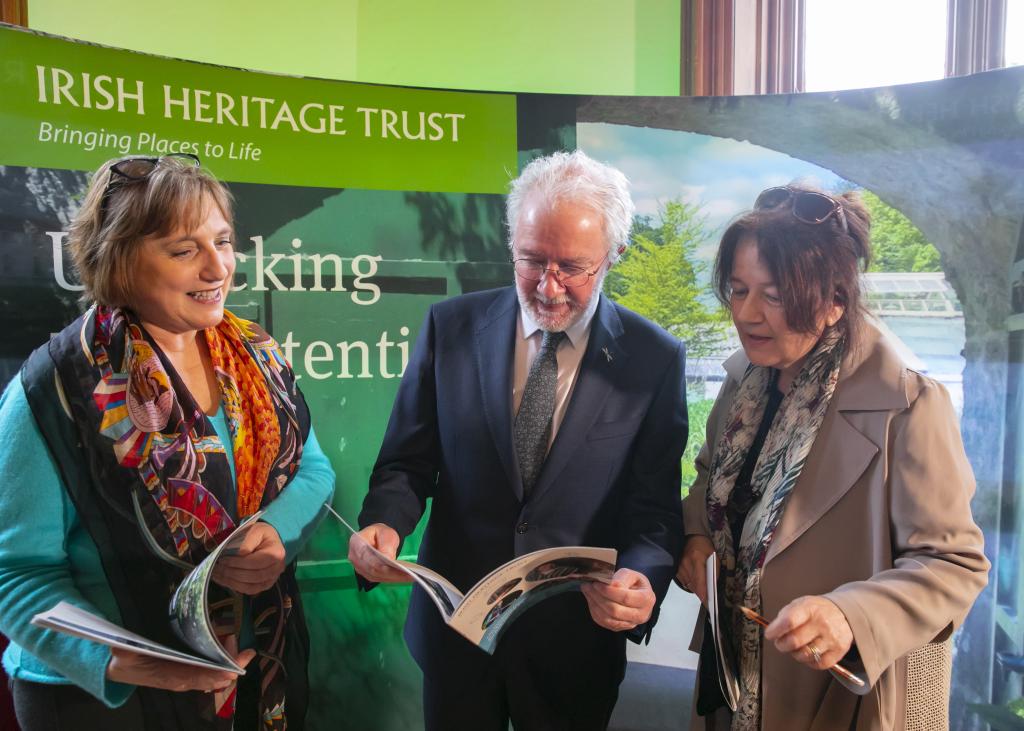 Paying tribute to the Irish Heritage Trust for its successful and engaging volunteer programme, Minister Noonan said: "I'm delighted to be here today in the magnificently restored east wing of Johnstown Castle and to launch this very important Complete Guide to Volunteering. Irish Heritage Trust Volunteers, many of whom have personal connections to the properties in the Trust's care, make an immense contribution to the Trust as it develops vibrant visitor attractions which showcase our local and national heritage. The enduring connections that are made between volunteers from the community with these special places means that our heritage will be protected and our social history brought to life for generations to come". He continued, "My Department was delighted to provide funding support of €750,000 for the conservation-led refurbishment of this unique Gothic turreted wing of Johnstown Castle, using sustainable Irish materials and master crafts people".
Minister Noonan afterwards joined Irish Heritage Trust Volunteers in the glasshouse of Johnstown's walled gardens to participate in a hands-on workshop with lime plasterer, Brian Tobin, who was passing on his skills to Irish Heritage Trust staff and volunteers in the repair and renewal of traditional lime plasters.
"It is wonderful to welcome Minister Noonan today to join with us in celebrating our volunteers, those who make a decision to join us in protecting and sharing our heritage. They help us bring to life our ethos of People, Place, Participation, something which underpins all of our work," said Anne O'Donoghue, CEO of the Irish Heritage Trust. "The Irish Heritage Trust firmly believes that increased individual and community participation is the key to enhancing the special places we care for. The Complete Guide to Volunteering provides a framework for us to develop, manage and acknowledge volunteerism in a meaningful and inclusive way in the years ahead. With a diverse range of roles, there is an opportunity for everyone including social engagement, knowledge, and skills acquisition and to be part of a community which values and protects our heritage for future generations to enjoy," she concluded.
Explore Our Latest News
Autumn Fête – Follies & Fun for Old & Young The Irish Heritage Trust has launched its Autumn Fête –…