26 June 2023
A second phase of garden projects are underway at the historic Johnstown Castle Estate, Museum & Gardens in County Wexford.
The sunken garden, historic glasshouses and walled gardens have all undergone substantial renewal and replanting over the last three years. Work continues on the glasshouse restoration and new planting schemes, all overseen by the Irish Heritage Trust.
Walled Gardens
These gardens were originally laid between 1844-1851 and are now being redesigned by our team led by Ciarán Fitzgerald and assisted by Irish Heritage Trust garden volunteers.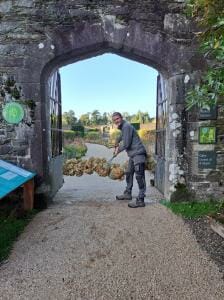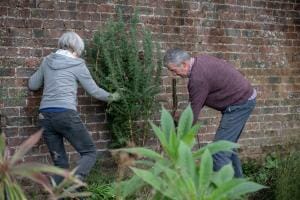 Phase one of the three-year project includes a new pathway system and 2023 is the first season of the new herbaceous border display. 3,000 new plants have been grown on site using organic peat free compost aligned with Irish Heritage Trust sustainability objectives.
Renowned 19th-century landscape designer, Daniel Robertson, laid out the walled gardens at Johnstown Castle Estate. He was also responsible for gardens at Powerscourt Estate and Wells House. However, with changes over time, the only original feature left are the walls themselves. The new layout leans heavily on the principles of the original designers while also offering a highly functional space with ornamental borders and edible woodland.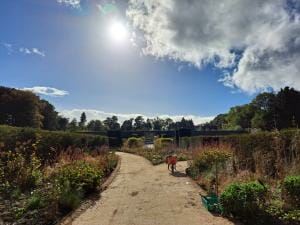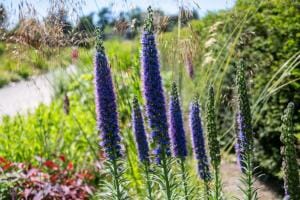 Glasshouses
The magnificent 50-metre lean-to Richardson Glasshouse in the walled gardens was in a poor state of disrepair. Conservation work included its unique vent and the Temperate House which opens to the public at the end of June. Visitor access to the remaining areas of the glasshouse will return on a phased basis over the coming year as restoration work on the flagstone floor is completed. A second smaller Richardson glasshouse will undergo conservation in the coming months.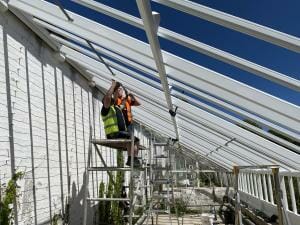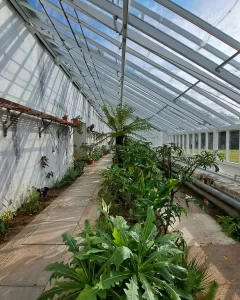 Sunken Garden
Another highlight for garden lovers visiting Johnstown Castle Estate Museum & Gardens is the re-designed sunken garden. It was originally designed in an ornate baroque style which included the use of box hedging and ornamental flowers. Over the centuries its purpose changed to include a tennis court and a grass picnic area.
The new design is a nod to the ornate nature of the original design whilst bringing it up to date in form and function with the creation of newly shaped lawns and a shallow pond of reflection.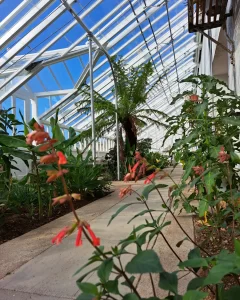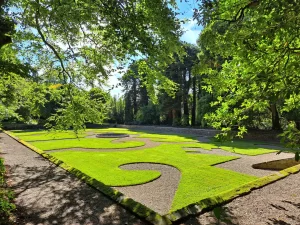 These projects were funded from the following sources:
Ticket sales; 7,000 Irish Heritage Trust members; Irish Heritage Trust philanthropic funding; Teagasc – the owner of the property; Department of Rural & Community Development under the Rural Regeneration and Development Fund*; Capital Grants Programme from the Department of Housing, Local Government Heritage.
*The Rural Regeneration and Development Fund is a €1 billion investment programme established under the National Development Plan. The Fund supports large-scale, ambitious projects that can achieve sustainable social and economic development in rural areas.
Explore Our Latest News
Autumn Fête – Follies & Fun for Old & Young The Irish Heritage Trust has launched its Autumn Fête –…