19 June 2023
Restoring the East Wing at Johnstown Castle
Heritage buildings are proud witnesses to our past, embodying the architectural and cultural legacy of bygone eras. While the march of progress once prompted the demolition of these structures, their value is now recognised and many have become heritage venue destinations.
Such is the case at our award-winning Johnstown Castle Estate nestled amidst lush gardens in County Wexford. Here, a Gothic-Revival Castle has stood as a testament to architectural grandeur for centuries.
The property is bursting with charm and tranquillity with spectacular lakes and walled gardens offering an unforgettable setting for all kinds of events.
Heritage Buildings – A Work in Progress
Extensive restoration of the Castle took place in advance of its opening to the public in 2019.
Works have continued since, including the recent restoration on one of the Estates most remarkable features – the East Wing. This extensive restoration has breathed new life into the majestic interiors which comprise a Ballroom, Oratory and Billiard Room.
The restoration has preserved the rich heritage of the Estate and created a unique new venue in Ireland's Ancient East.
Multi-purpose Venue Through Time
Johnstown Castle and its East Wing represent many layers of history dating back to the 12th century.
The original Castle remained as a fortified tower house until the 19th century and the East Wing stood as a separate entity that served as accommodation for estate workers.
In the 1830s, renowned architect Daniel Robertson rebuilt the Castle. The owner, Hamilton Knox Grogan-Morgan (1807-54), was an accomplished amateur scientist and had the Castle's East Wing extended to include a laboratory.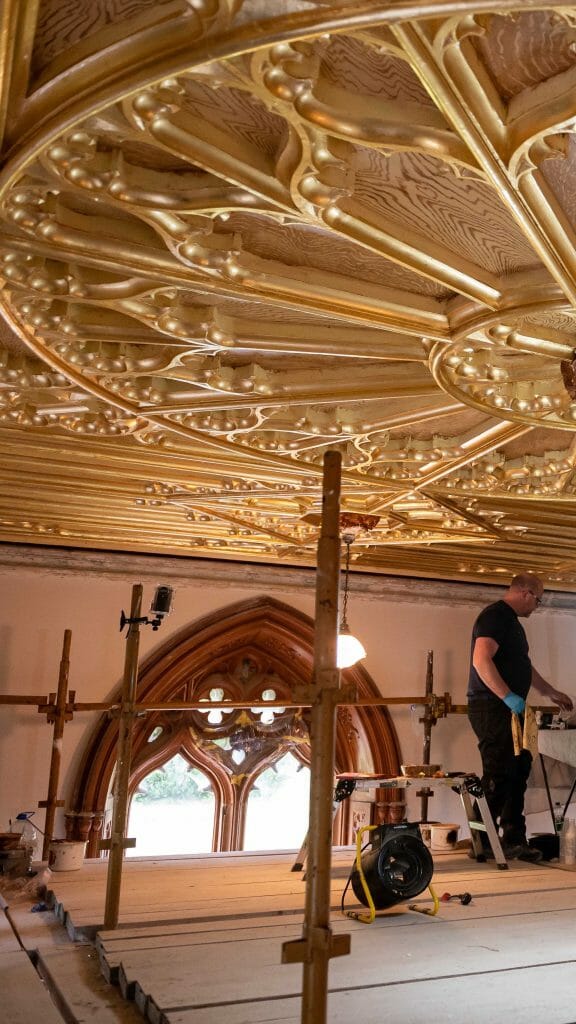 This laboratory included a large conservatory to the rear and an Oratory and Billiard Room on the floors above. Following Hamilton's death in 1854, the laboratory and conservatory were dismantled and transformed into a Ballroom. The Ballroom, Oratory and Billiard Room are now beautifully restored with exquisite craftsmanship including a hand-painted gilded ceiling.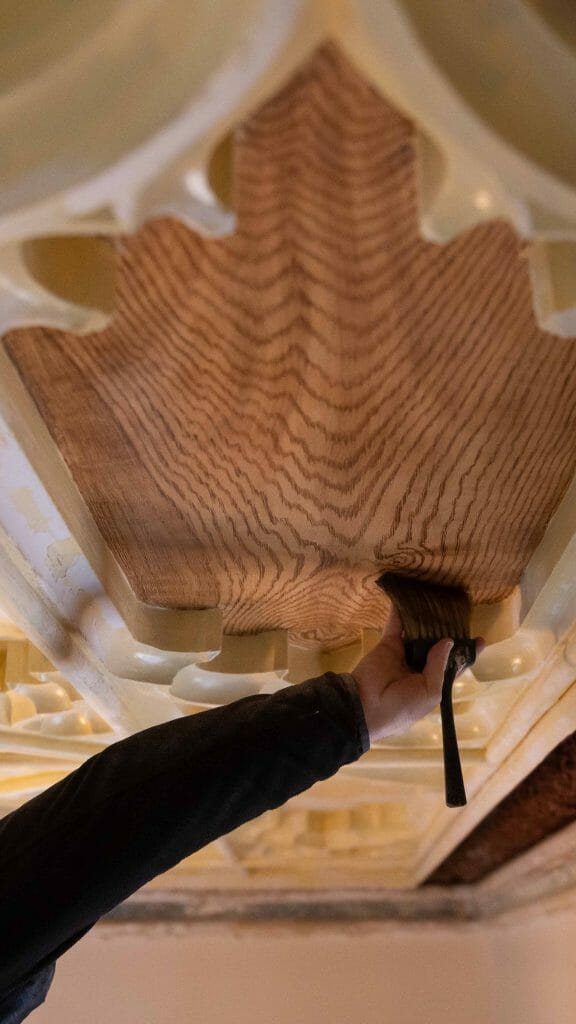 Sustainable Development
The Irish Heritage Trust makes every effort to ensure the sustainable development of all heritage buildings in our care. Our project team collaborated with master craftspeople, skilled artisans, and preservation experts to ensure every intricate detail of the East Wing was lovingly restored.
Parts of the Ballroom, Billiard Room and Oratory floors were restored with wood salvaged from the Johnstown Castle Estate.
Unique Meetings & Events Venue Destination
The renovated East Wing brings a new meeting and event space in an enchanting setting to Ireland's Ancient East. Available for weddings and corporate events, the careful restoration and integration of modern amenities make it a unique multipurpose venue.
Heritage venue destinations add a rich backdrop to inspire event guests and participants. Whether it's a team meeting, corporate lunch or family gathering, Johnstown Castle and the East Wing have a range of inspiration spaces for your event.
Restoring heritage buildings such as the East Wing is not merely an act of preserving bricks and mortar. It's a commitment to honouring our collective past. By restoring these architectural marvels, we safeguard our cultural heritage, promote sustainability, and bring new life to old places.
Explore Our Latest News
Autumn Fête – Follies & Fun for Old & Young The Irish Heritage Trust has launched its Autumn Fête –…